21 – 28 OCTOBER 2018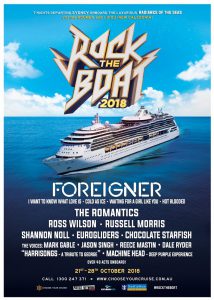 Greetings cruisers and music lovers!
Choose Your Cruise, the company that brings you Australia's biggest music festivals at sea presents Rock the Boat 2018 – Our eighth installment of Rock N Roll paradise on the high seas which is proving itself to be one of our most anticipated releases to date!
Rock the Boat 2018 is Sailing ex-Sydney from the 21st-28th of October 2018. This is set to be the largest collection of artists we have assembled on water – featuring the ten-time multi-platinum superstars, Foreigner with over 45 acts performing on board the 7 night journey to the South Pacific.
Responsible for some of rock and roll's most enduring anthems including "Juke Box Hero," "Feels Like The First Time," "Urgent," "Head Games," "Hot Blooded," "Cold As Ice," "Dirty White Boy," "Waiting For A Girl Like You," and the worldwide #1 hit, "I Want To Know What Love Is," Foreigner continues to rock the charts almost 40 years into the game.
View Rock the Boat 2018 Full Line Up
Departing on a round trip from Sydney's Circular Quay, Rock the Boat 2018 will visit the quaint French Colonial town of Noumea and the white sand beaches of Lifou.
Pricing for this cruise can be found below. You will find certain rooms can sleep up to four or more passengers, however some are listed with a maximum occupancy of 2 passengers.
These prices include ALL entertainment, activities and accommodation on board. All meals (excluding speciality restaurants) and selected beverages such as tea, coffee, and flavoured iced tea are also included in these prices.
General sale of bookings for Rock the Boat 2018 are now available!
Call our office or your local Cruiseco agent NOW on 1300 247 371 to make your booking request to secure your cabin and receive $200 early bird discount per stateroom booked before July 31st 2017.We look forward to rocking the boat with you in 2018!
#RTB2018
Kind regards,
The Choose Your Cruise team
PLACE YOUR BOOKING REQUEST FOR ROCK THE BOAT 2018