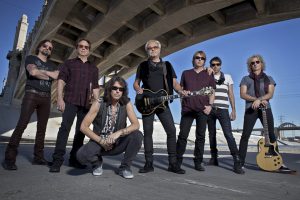 With ten multi-platinum albums and sixteen Top 30 hits, Foreigner is universally hailed as one of the most popular rock acts in the world with a formidable musical arsenal that continues to propel sold-out tours and album sales, now exceeding 75 million. Responsible for some of rock and roll's most enduring anthems including "Juke Box Hero," "Feels Like The First Time," "Urgent," "Head Games," "Hot Blooded," "Cold As Ice," "Dirty White Boy," "Waiting For A Girl Like You," and the worldwide #1 hit, "I Want To Know What Love Is," Foreigner continues to rock the charts almost 40 years into the game.
Founded in 1976, Foreigner's debut album produced the hits "Feels Like The First Time," "Cold As Ice" and "Long, Long Way From Home." The album Double Vision followed, as did a string of hits like "Urgent," "Juke Box Hero" and "Waiting For A Girl Like You." Those songs helped give Foreigner's next album, 4, its impressive run at #1 on the Billboard chart. At the zenith of 80's sound, Foreigner's fifth album, Agent Provocateur, gave the world the incredible #1 global hit," I Want To Know What Love Is." This musical milestone followed the record-breaking song "Waiting For A Girl Like You."
As a front man and lead vocalist, Kelly Hansen is among the most respected, consummate professionals in rock and roll. With a 35-year career that spans almost every area of music, from the role of lead vocalist to producing and engineering, Kelly has the unique ability to advance and excel when faced with new challenges.
In June 2013, Mick Jones was inducted to the Songwriters Hall Of Fame. A multi-talented and multi-dimensional "musician's musician," Jones has also written songs such as "Bad Love" with Eric Clapton and "Dreamer" with Ozzy Osbourne, and produced records for others including Billy Joel's Storm Front and Van Halen's 5150. A Grammy and Golden Globe-nominated songwriter, Jones is the winner of the prestigious British Ivor Novello Songwriter Award for "The Flame Still Burns", the soundtrack music for the film Still Crazy.
Recent albums including Juke Box Heroes, a new compilation of digitally recorded Foreigner hits, and The Best of Foreigner 4 & More, recorded live from The Borgata, continue to chart, with Billboard recently releasing their "Greatest of All Time" lists featuring Foreigner hits in every category. Catalog sales often eclipse those of AC/DC, Aerosmith, The Rolling Stones, Queen, Van Halen and most of their Classic Rock peers (Source: Nielsen SoundScan Top 200, September 15, 2013).
2017 marks the celebration of Foreigner's 40th anniversary with the release of a double CD set '40' that includes 40 songs recorded between 1977 and 2017. This album features two tracks recorded especially for this release, 'Give My Life For Love' and a new version of 'I Don't Want To Live Without You.' This summer, the band will launch an extensive 40th anniversary headline US tour with Cheap Trick and Jason Bonham's Led Zeppelin Experience.
In 2018, Foreigner will be returning to Australia, performing on board Royal Caribbean's Radiance of the Seas for a once in a lifetime run of shows on board Rock the Boat 2018. To be immersed in a music festival atmosphere at sea alongside Foreigner and over 45 incredible Rock acts to the likes of The Romantics, Ross Wilson, Russell Morris, Shannon Noll, Eurogliders and Chocolate Starfish just to name a few, you can find out more on the Rock the Boat 2018 website.