There is so much to a music cruise to look forward to and enjoy! If it is your first time cruising, or you have cruised before but not on board one of our music cruises; there may be some key points about our cruises you may not already know. We have compiled the top 10 questions our first-time cruisers tend to ask us below:
1. Do I need to purchase tickets for each concert on-board?
No, you do not. All our cruises include admission to every show on-board, so no additional payments are required for any of the shows.
2. Do I need to reserve tickets to any shows on board?
No, you do not. There will be two sittings for each headliner show which are governed by your dining time. This gives everyone the opportunity to see each of the headliner shows without worrying about missing out on a seat in the theatre. The rest of the shows around the ship are general admission, so you can pick and choose which ones you want to see each day.
3. I am flying in on the day of the cruise, what time do I need to be at the pier by?
If you are flying in on the day of departure, we recommend an early flight that will get in between 8-10am. This will give you plenty of time to get from the airport to the overseas passenger terminal and will also allow for delays and possible cancellations of your flight.
This does not happen often but is something to keep in mind. To avoid any possibility of missing the ship, we recommend flying in the night before and staying at a hotel close by. If you would like some recommendations of accommodation close to the departure terminal, please let us know and we would be happy to assist.
4. What time should I fly home?
The ship will arrive back into port early in the morning (between 6-7am) and as soon as we are cleared by customs, passengers will be able to disembark. You will be provided with a time to depart the ship that coincides with your baggage tag before the end of your cruise.
As all passengers will be off the ship by 9am on the day of departure, you can book a late morning flight home, we recommend any time from 10am. This will give you time to disembark the ship, collect your bags, clear customs and make your way to the airport.
5. Can I buy t-shirts/ merchandise on-board?
Yes, cruise and artist merchandise will be available to purchase on board via the Royal Caribbean shops on board.
We release limited runs of merchandise for each specific cruise which is normally available approximately 3 months before sailing, so you can buy your merch before getting on board and running the risk of your size or style selling out.
We have a wide range of merchandise available year-round and we are adding new styles all the time, you can visit our web store here: https://chooseyourcruise.bigcartel.com/
Please note, while merchandise will be available, stock is limited on board, so it is best to get yours before you leave so you can wear it when you get to the ship!
6. Can I bring my own food and non-alcoholic drinks on board with me?
One of the best things about cruising is the food! And there will be many dining options available to suit most tastes and preferences. However, you are free to bring non-perishable pre-packaged food in limited quantities.
Guests may also bring non-alcoholic drinks as carry-on items on boarding day. Non-alcoholic drinks may not exceed 12 x US standard (500 ml) cans, bottles or cartons per stateroom. Milk and distilled water brought onboard for infants, medical or dietary use are permitted.
7. Are drinks packages available? If so, what are they?
Drink packages are available through Royal Caribbean and can be purchased either once your online check in is completed or once you are on board.
Details on the beverage package types can be found below; prices will be available on your cruise planner once you get your booking number; however, we recommend budgeting on USD$70/($100AUD) per day for the Deluxe Beverage Package (Which is our passengers most favoured option!)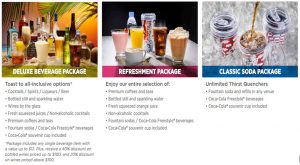 Any guest wishing to purchase an alcoholic beverage package must do so for all guests of legal drinking age in the same stateroom. We cannot make any exemptions to this rule, even if a medical certificate is presented. For more information, you can view Royal Caribbean's beverage policy here: https://www.royalcaribbean.com.au/faq/questions/beverage-package-policy
Beverage packages are certainly not compulsory to guest 18 and over; however, they are very popular with our guests. If your group doesn't drink or you don't think you'll get value out of the package (Approximately 8 cocktails or 10 beers a day is break-even) then you can simply pay as you go. No problems.
8. When do you get to see the concerts?
We have arranged a music program in order to assure every passenger on board can see each headliner perform in the theatre on their specified cruise. Each night, depending on your dining time (early or late), you will have entry to the main theatre to see the concert that coincides with your dinner reservations. For instance, if you are on early dining – you will be going to the late show each night for the headlining performances. Other venues around the ship are general admission, and you can see as many of these shows as you like throughout the cruise. Bands around the ship perform more than once, so that way you get a chance to see everyone over the week at sea. To schedule your week, we recommend you download the Choose Your Cruise app where you can arrange the shows you want to see each day. You can download the app any time, however, please note the artist timetable will be uploaded and released approximately 14 days before sailing.
9. What is the difference between cabin categories?
There are four core cabin types as follows:
Interior                  –              Cabin within the ship with no windows
Outside                  –              Cabin with a window (that does not open)
Balcony                  –              Cabin with a balcony and sliding door that opens
Suites                     –              Luxury option with a balcony
Other difference between the categories are where they are located on the ship, and sometimes can be the size of the cabin.  For more information on the specific cruise you are interested in, give us a call on 1300 247 371, and we'd be happy to help you find the best cabin suited for you.
10. Are all the restaurants on board included in the price of the cruise?
Short answer: No, not all of them. Royal Caribbean ships offer a selection of speciality restaurant options – premium dining options such as Giovanni's Table, IZUMI, Chef's Table, Samba Grille & Chops Grille all incur a dining surcharge. For more information, visit this link: https://www.royalcaribbean.com/aus/en/cruise-dining
We hope this information is useful to you, whether you are a first-time cruiser with us, or an avid cruiser who might like to learn a thing or two about music cruising. If you have any further questions that aren't answered here, you can call us on 1300 247 371 and speak to us, we'd be happy to help any time!