Greetings from the team at Choose Your Cruise,
The last 12 months has been a truly unprecedented time for the cruise industry, and as a result, our music festivals have been heavily affected in how we are able to operate.
In response to continuing travel restrictions due to the impact of COVID-19, along with the uncertainty of what social distancing procedures may be in place at the time of sailing in November this year, we came to the difficult decision to postpone Super Cruise 2021 to 2022, with a new sailing date set for 9th of November 2022.
We pride ourselves on creating an onboard atmosphere like no other, combining a love for music and travel to provide the best on-board entertainment and immersive activities for all our passengers. Until it can be assured all passengers can travel without restrictions that would impact their overall voyage, it would be a disservice to our guests in the event they are unable to revel in the full experience, which they have come to enjoy from our music cruises.
We also strongly feel that 2022 will be a more suitable time to travel following the roll out of COVID-19 vaccines which will be comprehensively administered nation-wide by our new proposed date. On top of providing a memorable experience to our guests, it is imperative to us that our passengers can travel knowing their safety and health on board is at an absolute top priority.
We are delighted to announce that Royal Caribbean's Ovation of the Seas will still be our home for Super Cruise 2022, departing Sydney on 9-16 November 2022 for seven nights. We are also delighted to advise that all headline performers and majority of musicians from the original line-up will be returning.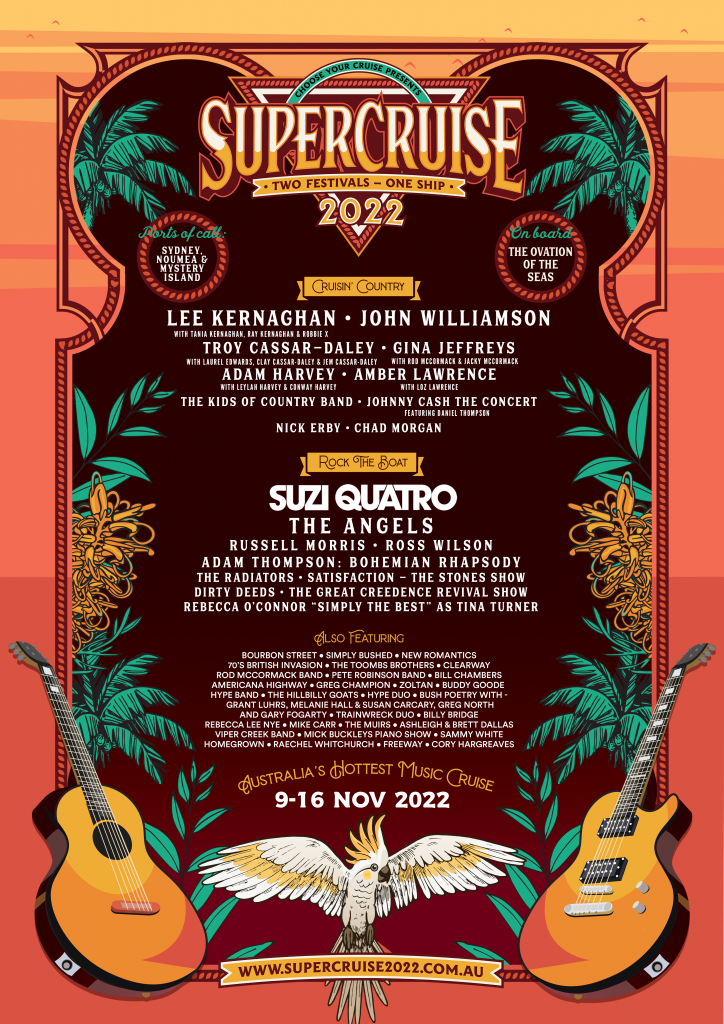 All currently booked passengers for our Super Cruise 2021 will be automatically transferred to the new date. Cabin and reference numbers will remain the same, the only change is the new date of 9th of November 2022. If you currently hold a booking with us and are unable to travel during these dates in 2022, a Future Cruise Credit for 2023 can be issued upon request. Please contact Choose Your Cruise direct for more information via enquiries@chooseyourcruise.com.au 
While we are undergoing the process of transferring existing bookings onto the new sailing, we will not be invoicing new booking requests for 2022. However, we will be taking pre-registrations for NEW bookings immediately. Please complete the following pre-registration form for NEW booking enquiries on Super Cruise 2022 https://www.surveymonkey.com/r/supercruise22
The support from our passengers, artists and travel consultants during this time has been overwhelming, and we are truly thankful to each of you who have supported us through these difficult times.
Thank you for your continued support and we look forward to providing you with an unparalleled music festival at sea in 2022.
– Team CYC