CRUISIN' COUNTRY 2020 HAS ARRIVED!
Celebrating 10 incredible years, Cruisin' Country returns for its biggest country music festival at sea in 2020, showcasing the best of Australian Country Music – Choose Your Cruise Presents, Cruisin' Country 2020: A Family Affair.
Cruisin' Country 2020 is set to raise the roof with the biggest line up in its ten-year history. Featuring headliner Lee Kernaghan performing with Tania Kernaghan alongside multi gold award winning patriarch of the Kernaghan Family dynasty, Ray Kernaghan – over 50 artists will join 2,200 country music enthusiasts for a non-stop music and cruise experience of a lifetime. Cruisin' Country 2020 will commemorate what makes Australian Country Music special and celebrated with their very own family members performing on stage together for the first time on the 8-night itinerary departing Sydney from October 5th – 13th 2020.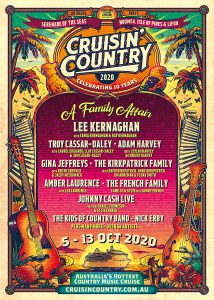 Cruisin' Country passengers will experience the exciting new ship, Royal Caribbean's Serenade of the Seas for 8 nights from the 5th of October- returning 13th October 2020. Pacific Island ports of call include: Lifou (Loyalty Islands), Isle of Pines (New Caledonia) and Noumea (New Caledonia).

Enjoy the sumptuous luxury on board Royal Caribbean's Serenade of the Seas. Panoramic vistas and acres of glass ensure you'll never miss a moment of the scenery throughout your days on board. Whether you want to bask in the sun of the enclosed Solarium pool or want to keep active on the Rock-Climbing Wall, your backdrop will be breathtaking. With world class dining, 16 bars, clubs and lounges and live music around every corner, each passenger will be talking about their experience on board for years to come.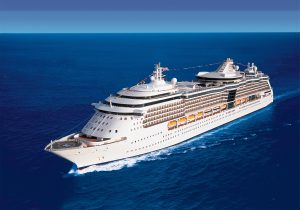 This eight-night adventure offers incredible up-close and intimate live music performances with some of Australia's best country music talent sharing the stage with their family members. We invite you to bring your very own family members to come on board Cruisin' Country 2020 and share in this magical music journey that is truly a unique experience not to be missed for any country music lover.
Cruisin' Country 2020 is officially on sale Tuesday March 26th! Be sure to book in early and receive a huge 10% discount off your cabin price PLUS an exclusive VIP experience package that includes priority embarkation on departure day AND priority seating in the headliner theatre!
*Only available to new bookings made before April 30th or sold out prior

Take advantage of this special offer and call Choose Your Cruise on 1300 247 371 or your local Cruiseco agent to secure your cabin.